Cj and I are really rollin' out the posts today.
AAAAANYHOW. This stuff is the shit. That's all.
YES TO CARROTS
Can You C Me Eye and Face Makeup Remover
I was using Balms Away after hearing about it from
Pixiwoo
. It's cool but its so thick and resembles Vasaline I was over it quick. THIS STUFF HOWEVER.. its fresh, I like the idea that its filled with natural goodness, and if you put it in the fridge it feels like heaven. As for its makeup removing power, its pretty decent!
FYI, If it's liquid and goes on my face, I almost always put it in the fridge. Try it sometime!
With its first 5 ingredients listed as spring water, carrot juice, rosemary extract, algae extract, and cucumber extract its sure to give you a good dose of health karma points!
YES,
I would def buy again.
BENEFIT BROWS A-GO-GO
I was using Expresso e/s to FILL (not shape) my eyebrows. Now, both brow powders in this kit work for me. The lighter shade to fill and the darker shade to shape. Also, the highlighting shadow isn't so bad. Only CON, I prefer the Benefit Eyebright in pencil form.
YES
, if it's still avail in the future I would buy again.
DIOR ADDICT LIP GLOW
HG LIP PRODUCT OF ALL TIMEEEE.. or just for now. As some of you may have heard, it works with your bodys chemistry to give you a custom shade that looks EFFING FAB ON YOU! It moisturizes, lasts very long, and the shade it will give will most def work on you.
HELLZ YEAH I WOULD BUY THIS AGAIN!
Even for the hefty $29 price tag =/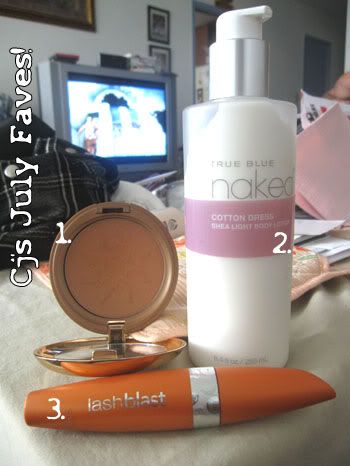 Since i've been sooo busy with school and all, this is pretty much what gets me by in the morning. Plus my tinted moisturizer and Co Bigelow chap stick. =)
1.
The Body Shop Bronzing Powder shade 2
. I've used this in my FOTD.. and it's pretty much my default bronzer. I love it to death. It's sheer enough to give that nice glow, but not so it looks like a fake tan.
MY MUST HAVE FOR THE SUMMER
, even though San Francisco doesn't have much of a summer. lol. I have no idea how much this costs anymore, I used to work at The Body Shop (hence why I have tons of make up from there), but I really feel like it's been slept on. If you're near a body shop, mosdef check out the make-up.. also the face products. I LOURVEEE THEM!
2.
True Blue Cotton Lotion from Bath & Body Works
. My girls can back me up on this.. when i smelled this, I knew I NEEDED this. I got it at their sale, and I THINK they've discontinued it. So if the sale is still going on, and they still have it on stock, check it out.. it was only about
$5
!! ahh, bargains!
3.
CoverGirl LashBlast
! If you've never tried it, you should. I became a fan when the 3 pack was on sale @ Costco. I got it for about $9 and some change with the coupon.. pretty damn good. I love bargains! I think this has become my holy grail mascara!
Toodles!