So Saturday I had my makeup done by my girl and fav MUA, Sarah. She's a vet at the MACpro on Union and has been working at MAC for ..like, ever. Haha, no I think around 6 years or so if memory serves me right. She's been a great mentor and has helped me hone my skill and foster my love for makeup for the past year and a half.
Here's the look she did, we were going for something smokey/vibrant.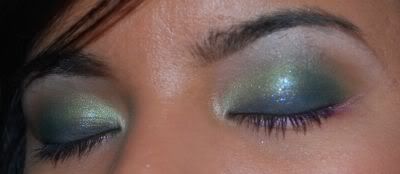 I don't remember what products we used, probably something to work on for the next Artist Series installment.


Some stuff I learned while sitting in her chair
: The 191 is truly the most slept on foundation brush, shimmery is not always the best way to go when using a highlighter, and the best way to apply reflects glitter is by finger.
Disclaimer:
All things mentioned in this post are the opinions of Sarah and TNB,
NOT
M.A.C. Cosmetics. =D
Hope you liked the first installment of TNB's Pro Artist Series.
Have a great week, bitches.