Sorry for the lack of posts. I haven't been wearing make-up nor was I buying anything.. so I'm happy I actually have something to post. =)
Honestly.. wow. I wasn't impressed. When i looked at all the promo pics all the colors seems so promising, and of course I was excited to check out the collection. However, when I went to my local MAC store to swatch the products.. DISAPPOINTING.
All the loose shadows were chalky and hardly had any pigmentation.
I tried out the blushes.. and wow..
The Perfect Blush
didn't come out on my skin, and
Notable
made me look ashy. I think they're more suitable for lighter tones.
The quads were more promising, but most of the colors were easily duped.. BLEH. And surprisingly, they were all sold out of the quads, but when I called my new staple artist, she kindof told me on the DL that the manager.. no call and no showed and they didn't know where the back stock was.. (uh oh!..) but she did tell me she was going to hold the 3 quads for me until tomorrow if i change my mind and want to get 'em. I'm still up in the air about them.
The only thing really worth it are the pigments and the technakohl liners. I liked the glitters, but I would never use them.. so I passed them up.
What did I get?
I got 3 technakohl liners in
Colour Matters, Obviously Orange,
&
Full of Fuchsia
. The Graphblack is just black.. and
Artistic License
reminded me of the Urban Decay 24/7 liner in
Electric.
And I got
Young Thing
Lipglass.
From the permanent line, I got a replacement
shroom
eye shadow(my fave highlight color) and I got
Myth
Lipstick. I wanted a nuder lip color so I can top it with more dramatic gloss to die down the color. I tried the lip erase, but it felt too dry on my lips, so i settled for a nude lipstick.. it does the job!
I did swatches for Mtyh l/s, Young Thing l/g, and shroom e/s.. but the lighting in my house is terrible.. so I only uploaded swatches for the technakohl liners.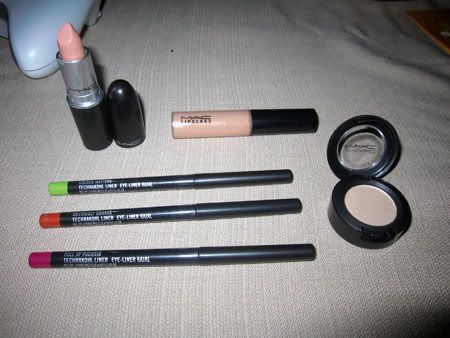 My mini haul.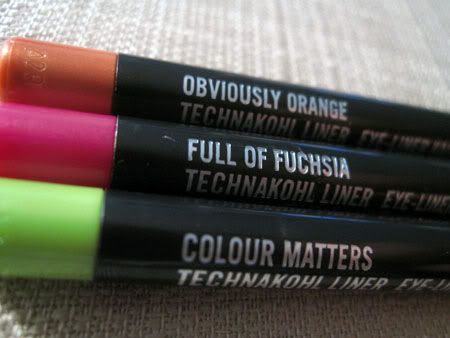 Technakohl liners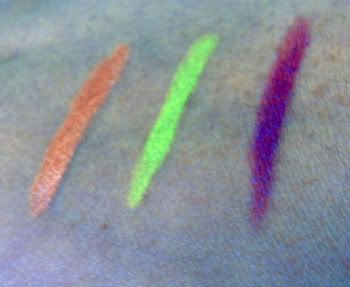 w/o flash.
Tootles!