As you all know I got four R&L brushes from IMATS and I've had all month long to test them out. On the
R&L site
you can see they offer many brushes, all of which are at a reasonable price and are very good quality.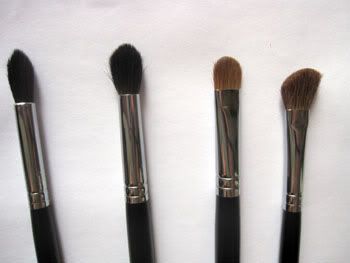 L-R Crease C430, Smudger C445, Eye Shader C410, Angle Shader C500
(All brushes are from the SILK Pro line)
The first brush is the crease brush, its almost comparable to the MAC 226 brush that just got rereleased with the Color Craft Collection. It's not as dense and a little longer than the 226, and I would also say its considerably softer as well.
The next is the smudger brush, though I think of it more as a fluffy blending brush.
I LOVE THIS BRUSH
. It's sooooooo soft, had I known it was so good I would of got 2! Comparable to the MAC 224, perhaps even better! Ahhh I cannot stress how good this brush is!
I also picked up their shader brush. It's a pretty decent brush, its soft and all that jazz. My only con about it is that it doesn't really give they way the MAC 239 does. It's EXTREMELY stiff. It's kind of got that concealer brush feel. Might be better for things like paint pots and other bases, and yes concealers too.
Last I got the angled shader brush. Another one thats pretty decent, but not as good as the other brushes. It's fairly soft, not as soft as the other ones. It's slightly stiff and not very fluffy either. It gets the job done though, just takes a lighter hand and some patience.
So all these brushes are very very good quality! I would def buy some of these again and I'm also looking into purchasing more brushes from Royal as well. Face brushes look pretty promising on the site.
DO check it out!
Hope your weekend was awesome,
Jess!