Well, It's been over a year since I've blogged. My apologies. But I promise I've been rejuvenated, and I actually have A LOT of ideas for this blog. =) So, hopefully you guys have a lot to look forward to.
I'm going to be starting school in January, so I'm going to try and crank out as many blogs as I can before then. With that being said..
I'm not the most fashionable, but I've been trying to up my game (Thanks to Jessica). Lately, I've been following a lot of fashion blogs (esp. on my tumblr) and I've been really into vintage, over-sized ugly sweaters and what-not, so I'm determined to work them into my wardrobe. I actually got Jessica to come consignment shopping with me (it wasn't hard, esp. since she loves to shop..)
We went to two stores, Painted Bird (1360 Valencia St, SF) and Buffalo Exchange (1210 Valencia St, SF) for some vintage goodness.
Off the bat, I already knew we were going stumble upon some good finds, because 1. we got prime-time parking and 2. We didn't have to pay for a meter. YESSSSS.
Anyway, the first stop was at Painted Bird. Jessica has been telling me about this place for months, and I'm glad we stopped in. They're a little pricier than Buffalo Exchange or Crossroads, but the quality of clothes are much better. Jessica said it best; "They're like the boutique of the consignment shops".. mainly because they're more particular about the items they want to sell. I ended up leaving with 3 items. A old man sweater, a leopard vest, and a bracelet (not pictured).
I tied to get a good picture of the bracelet, but since the lighting was bad, and the flash made the bracelet disappear, I couldn't post a pic.. but I'll let Jess tell you the funny story about them. =)
After Painted Bird, we walked about a block and a half to buffalo exchange (I know, how convenient). It was a bit over whelming for me in there. It was a lot more crowded than Painted Bird, and I also had Jasmine, who was getting cranky since she didn't really go down for a nap before hand.. so I only got 2 things there as well.. I got an H&M cardi, which I didn't really like, but since it was Half off, I just bought it. (LOL), and I got a new pair of black booties (let me just let this be known, after this pair, I WILL NOT buy another pair of black heels.. unless they are EXTREMELY cheap.. hahahaha)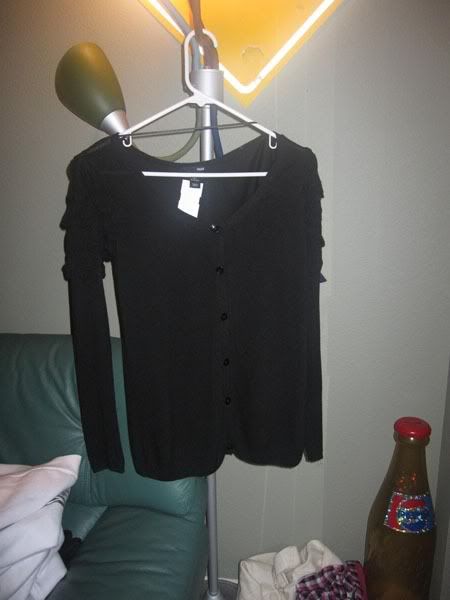 H&M Cardi
Orig price: $13
Sale price: $6.50
New pair of booties (forgot the brand, too lazy to get them to look)
$23.00
It's 2:25am, I have a photoshoot at 10am.. goodnight!
-Cj