Happy Friday everyone. Busy week, hence lack of posts. Sorry Jacky. I know you were waiting. HAHA. Anyway, about a month ago, me and Jess came across some face masks.. and I thought it would be a good product for a review. They're very convenient, and very affordable.
On with the review.
What is it?:
The Face Shop Serum Infused Facial Mask Sheets - I tried "fresh fruit lemon" for hydrated skin.

Where to buy?:
Participating Walgreens stores. Go to www.thefaceshop.com for a store locator. They're a Korean company, and I think they just started becoming main stream in the states. I had a lot of asian women come into the body shop asking for these masks, and now I get to try them out!
What The Face Shop says about this product:

- The benefits of lemons: Known for fighting fatigue as well as for their skincare benefits, vitamin-rich lemons hydrate and improve skin tone
- Made from all natural pulp for the gentle delivery of lemon extract, this refreshing juice-like mask sheet hydrates skin.
Directions:

-Use 2-3 times a week for best results.
- Do not reuse mask sheets
1. Wash face and apply toner. Remove mask sheet from package and unfold.
2. Carefully it mask over face
3. Remove mask sheet after 15-20 minutes. Gently pat any remaining formula into skin.
Ingredients:
Water, Polyglutamic Acid/Methyl Propanediol/Water, Sodium Hyaluronate, Algae Extract, Bentaine, PEG-32, Glycerin, PEG/PPG-17/6, Fragrance, Hydrogenated Lecithin, Citrus Medica Limonum (Lemon) Fruit Extract/Water, Citrus Paradisi (Grapefruit) Fruit Extract
Pros
:
-I like citrus smells, so right when I opened the pouch, I was in lovee!!
- For those with dry skin like mine, this does EXACTLY what it says.. it's very hydrating.
- Left my skin very soft!
- It's very easy to use, it has slits and holes, so you know where to position it onto your face
- Super convenient for travel and storage
- Inexpensive! 2 for $5
Cons:
- Not available at all Walgreens
- Not able to purchase on the site
- It's really damp, even after you take it off.
- Doesn't fit my face very well, i had to keep readjusting it.
- Although they say that you have to rub the excess into your skin, i felt there was WAY too much left over, I patted my face down with a towel, then rubbed the rest onto my face.
Overall:
- I'd buy this again. It's inexpensive, and they come in 6 different masks.. so you'll surely find a mask for you. It's not available everywhere, so whenever I go to walgreens, I'm going to stock up!
Click to enlarge pictures!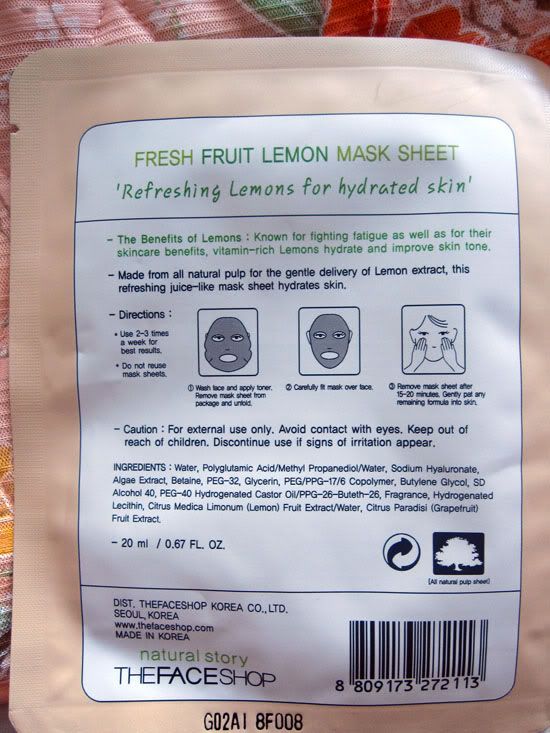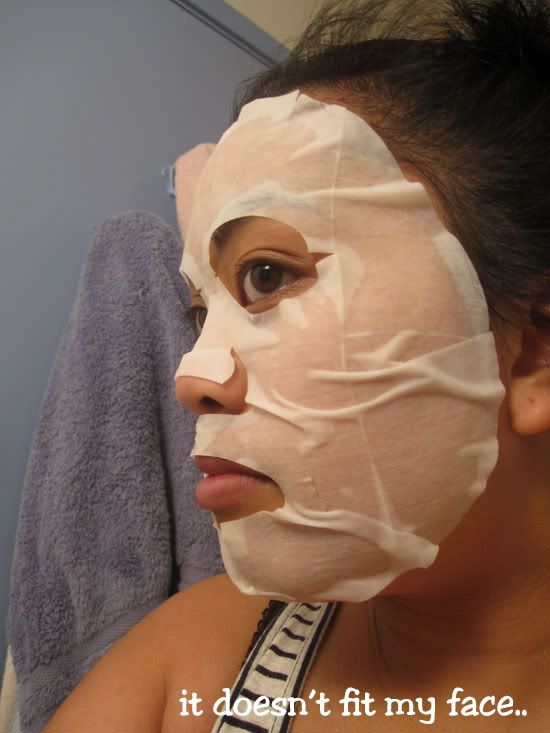 If you guys come across these masks, try some! =)