As you all know I had my makeup done by Sarah at MAC a few weeks ago. She has been nice enough to answer a few questions for TNB. Like I said she's a PRO, so listen up!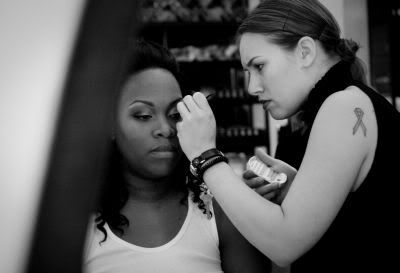 Disclaimer:
All things mentioned in this blog are the opinions of Sarah and TheeNewBlack, NOT M.A.C. Cosmetics
=D
..So with that aside, time for the Q&A!


What's the life of a professional MUA like?
It's awesome! I have always been an artist way before I even did makeup. I am fortunate enough to be able to be creative in the workplace and I get to work with people all day. That's both of my passions combined into one!
What or who has inspired you throughout your career?
I have learned the most from working with many other makeup artists over the years. Everyone has a different technique and a different style. My transitional clients are probably the most inspiring however because they tend to share the same excitement that I do. Generally they didn't have the opportunity to learn from their mothers as genetic women have. They are usually the ones that take the "craft" of makeup very seriously and they tend to practice the most after makeup lessons. On another note,
On Makeup magazine
is my favorite and most inspiring makeup magazine. It is manufactured by the powder group. Check it out!
What is THEE most important beauty tip that you can give to women?
THEE most important
beauty tip
that I can give to women is... don't be such a hard critic on yourself. This is something that I observe everyday... as women we tend to obsess about our imperfections and not on our perfections. If you don't feel good about yourself you won't feel good about the makeup no matter how amazing it is.
What is your biggest makeup pet peeve?
My biggest makeup pet peeve is denial about dirty brushes. I have had clients that have said that their foundation is breaking them out when really their brush hasn't been washed in years. Neglecting your brushes from a good bath can be damaging to the brush itself and transmits bacteria on your face. Don't do it! Many women don't realize that they can actually give
themselves
pink eye if their brushes aren't cleaned regularly.
What are your favorite products in you makeup kit?
My favorite products in my makeup kit are: M.A.C PRO Pale Yellow pencil, M.A.C Prep and Prime powder, and Korres face primer (it's one of the few water based primers on the market).
What products do you think should be a staple in every woman's purse?
Lip liner!!!! So many women skip out on it for all sorts of silly reasons. Some say their lips are too small, some say their lips are too big, others think it is just plain too heavy. Just do it! Lip liner will provide definition and seriously increase the wear of any lipstick.
What advice can you give to those aspiring to become MUA's themselves?
For those aspiring to be makeup artists, all I can say is dedicate yourself to your passion. Many try to take up an alternate career to "fall back on". Don't do it. You will end up spending more time on your alternate career rather than doing what you really want to do. Not all of us were meant to be doctors! Do whatever makes you the most passionate, the most fullfilled, and the most excited. If you do what you love most, you will never fail.
Hope you guys learned something new,
Have a great weekend!